Custom designed websites
PrestoSports provides a fully responsive, customized site that will accommodate different screen sizes used from mobile devices and tablets. Our mission is to build features within our platform that will enhance the fan experience while taking advantage of the newest technology.
Start your project
1,400 clients use PrestoSports Website Solutions.
PrestoSports was the 1st provider to build a "network" letting schools share information, integrate with the NCAA, offer enhanced stats, and provide fully responsive websites.
Our websites support Web Content Accessibility Guidelines (WCAG) PrestoSports' design team will oversee the process and work directly with you to accomplish the look and feel you desire to help build your brand.
An experienced Implementation Specialist will lead you through the design/transition/training process and share best practices to improve fan engagement.
Content Management System
PrestoSports offers the industry's most innovative and flexible content management solution. Used by more than 1,400 athletic departments, PrestoSports' CMS is extremely user friendly and requires no HTML encoding knowledge- although flexible for you if you do know some. It is 100% accessible online, allowing for remote publishing from any venue or location. Your athletics department will have complete control over all content, photos and graphics using PrestoSports' content management solution.
Additional features include:
Post Releases, Event Recaps, Box Scores, Season Statistics and more

Dynamic updating of box score links and player stats when using PrimeTime for live stats

Discover the power of video! Whether integrating live streaming into your site or using video as a background to bring new life to your site, we have you covered

Access to the Network for real-time sharing of data (game score, box scores, schedules, standings and more)

Make your site more social with Facebook, Twitter & other social media channels

Post photos, create photo galleries, and upload in bulk

Ability to create and manage registration pages/forms

Manage your site navigation and site edits while logged in and viewing the site

Powerful communication via email, newsletter and text messaging allows you to invite and inform your fans

Create, post, and remove marketing splash pages as you wish

Dynamic scoreboard/calendar updates for recent or upcoming games

Update scores on website via in-progress scoring using mobile devices or computer

Archive releases, photos, rosters, schedules and more

Powerful search tool to let fans search within your site

Users can automatically generate email of content on site

Create a QR code for that will link to a homepage, story, video and more
Mobile Apps
PrestoSports mobile app lets your fans cheer on your team as if they were in the front row of your arena. This mobile application is available to fans for free on Android and iOS devices and allows your fans to get score updates, statistics and game recaps from the road or at the event. Content in the app is dynamically updated as you update your website through the PrestoSports Network so you can keep your fans updated no matter where they are.
Programs use the PrestoSports Mobile App to:
Send notifications
Update Box scores and recaps from your latest events
Deliver live stats, news, Twitter integration, photo galleries
Access your mobile website
Provide an interactive interface
Put the latest scores and upcoming games where fans can easily find them
Brand to your school or conference
Get Started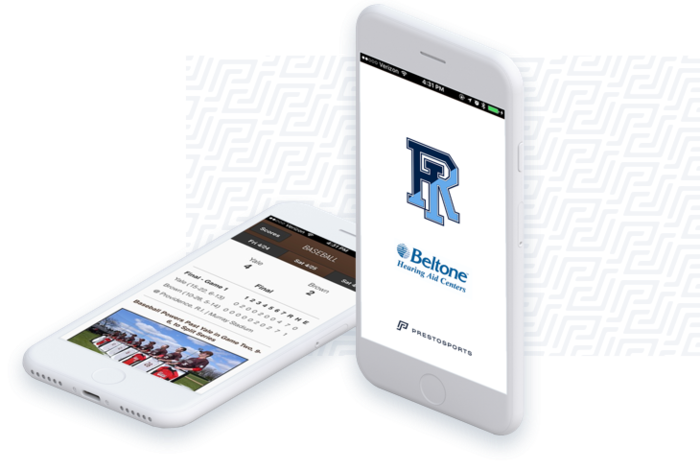 Online Merchandise Store
With PrestoSports Online Merchandise Store, you can sell official athletic merchandise through a selected vendor or on your own. The Merchandise Store lives within your website and offers a secure online transaction environment. You can also easily track sales daily.
Get Started
Online Photo Store
PrestoSports Online Photo Store allows you to monetize photo galleries by seamlessly posting photos for sale and integrating with 'Buy Now' functionality. Customer information captured into the CMS (Content Management System) and revenue checks are sent to you monthly.
Get Started
Network Advantages
The PrestoSports Network is one of the largest databases of collegiate information in the world. The power of the Network allows for real-time sharing of data from one website to another within the PrestoSports Network.
Join the Network
Game scores, box scores, schedules, standings, up-to-the-minute statistics are all updated dynamically in the Network
Automatic updating of Conference websites reduces the workload for athletics departments and conference office staffs
Eliminates redundant information input
Improves efficiency for institutions and conferences
"I'm really impressed with the ease of use and clever programming of the back end of the system. Very impressive."